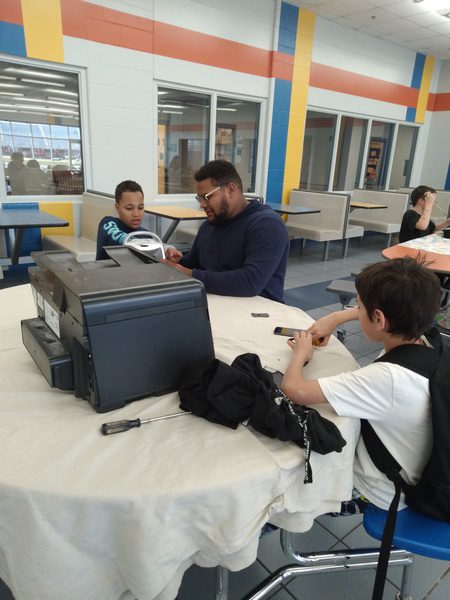 Blog
Meet Ace – Volunteer Spotlight!
Ace is one of FCP's top volunteers!
May 8, 2023
Last year, Ace Wesley relocated from Texas to Louisville with his job and was looking for ways to get involved in the community. He found what he was looking for when he stepped up to volunteer with Family & Children's Place's School-Based Services as part of a partnership between his employer, HealthTrackRX, and Family & Children's Place (FCP).  This volunteer opportunity quickly became an outlet for both Ace and the kids.
Ace volunteers nearly every day of the week with our students at Meyzeek Middle School.  He confided that he came from a "rough world" and was not always able to play and just be a kid. FCP's School-Based Services focus on homework, communication about academic progress, emotional literacy, substance abuse prevention, leadership, and family support.
A big part of what Ace does is simply give the kids time to talk and let their voices be heard. They take advantage of this opportunity by talking about how their day went, whether it was good or bad, or they vent their frustrations.  Of course, these conversations take place when the students are not climbing on him. Ace says the kids love it that he's a big guy they can play with, and they all love their time playing sports in the gym with him.  He also accompanies them on field trips.  On his off-time, ACE practices mixed martial arts and is very active.
His motto, which his father taught him at an early age, is that you "need to care in life and give out love."  His father was a chef and would hand out food on the street, even when they had no money to spare.
Going forward, Ace would like to host an etiquette class for the students, as he feels these are skills every child should learn. He believes that "if you don't [have proper etiquette], it's harder in life."
We can't thank Ace enough for his oversized commitment of time and energy to our kids.  Whenever thanked, Ace pays it forward. He is just happy to be able to have the time to be involved.  He is thankful to his mentor, Vincent Hughes, and to HealthTrackRX for giving him the opportunity to give back and to build a bond with the kids.