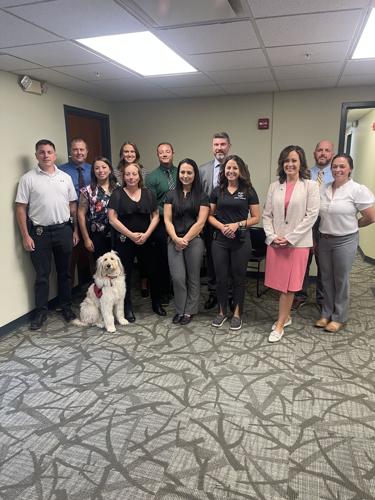 In the News, Press Releases
Lt. Governor Jacqueline Coleman Visits Family & Children's Place
On August 2, 2023, FCP welcomed Lt. Governor Coleman to our campus
August 8, 2023
LOUISVILLE, Ky. (WDRB) — Lt. Gov. Jacqueline Coleman toured Family & Children's Place on Wednesday in Louisville to see the nonprofit's work.
Coleman met with on-site partner law enforcement officers from Louisville Metro Police Department Office for Sexual & Physical Investigation, along with staff from Kosair for Kids Child Advocacy Center.
"It's great to be back here," Coleman said. "Usually we're here to celebrate and promote the work that they do, but today we're here to tour. It's going to be a good experience for me to see."
She continued: "To think there would be a day when these services aren't need would be ideal, but that's not the case, so just thinking about the people who do this work every day and how hard it is and how much it means to this community. This is something that has really been embedded in the community and quite frankly services people have come to depend on."
Family & Children's Place in Louisville serves children and families in Jefferson, Shelby, Oldham, Henry, Trimble, Spencer and Bullitt counties. Pam Darnall, president and CEO of Family & Children's Place, said child care advocacy centers are expanding after receiving state funding.
"There is a new expansion, all 15 child advocacy centers in Kentucky will be involved in expanding our services to reach even more kids and families in the coming years," Darnall said. "This expansion will likely increase the number of children and families who get services."
The nonprofit serves more than 5,000 children and families each year. It has provided services for children who experienced physical and sexual abuse and neglect in Louisville for more than 140 years.
Click here to read the story from WDRB.