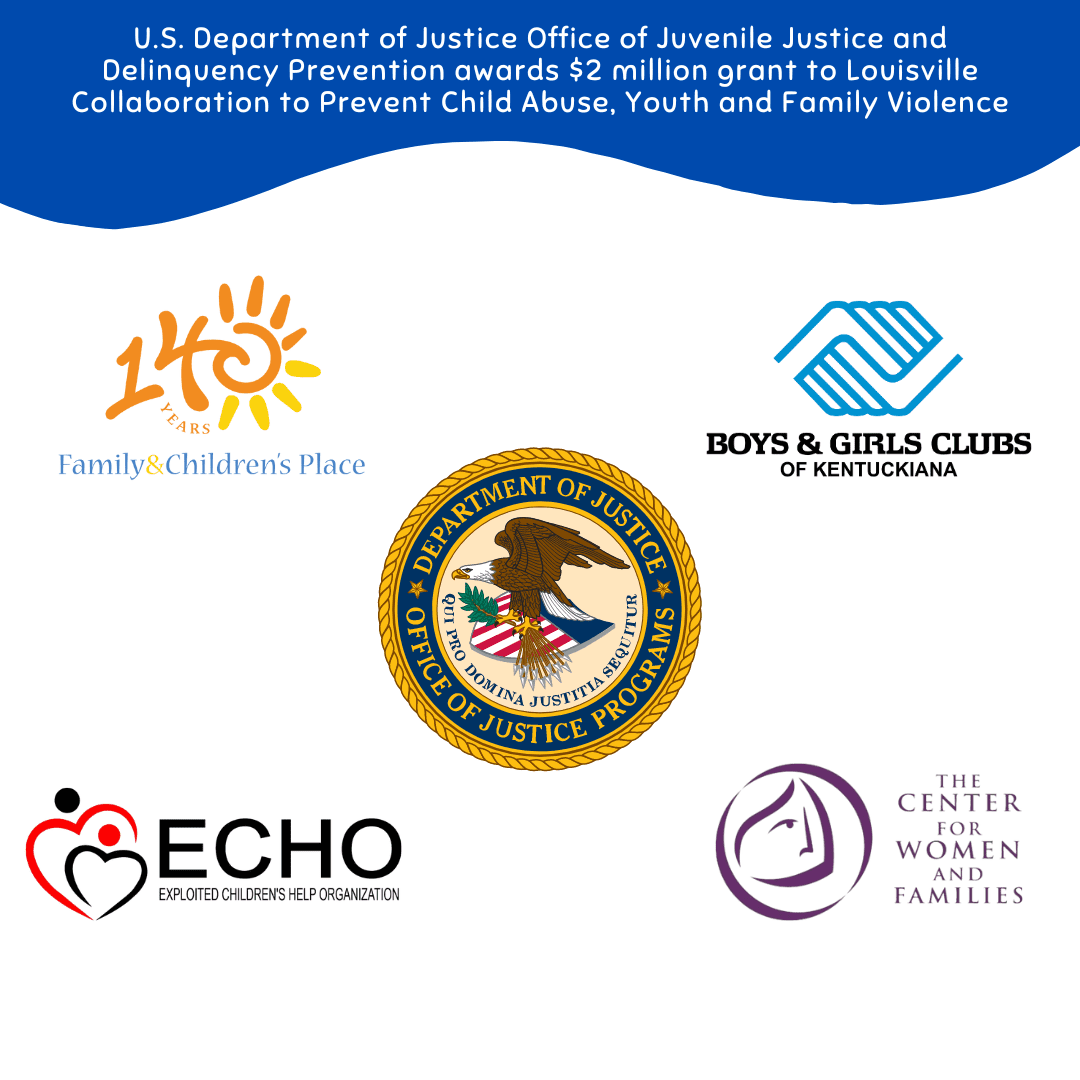 Press Releases
Louisville Collaboration to Prevent Child Abuse, Youth and Family Violence Receive $2 Million Grant From DOJ
August 30, 2023
RELEASE: Family & Children's Place, Center for Women & Families (CWF), Boys & Girls Clubs of Kentuckiana (BGCK) and Exploited Children's Help Organization (ECHO) Receive $2 Million Federal Appropriations Grant from Department of Justice Office of Juvenile Justice and Delinquency Prevention
Louisville, Ky. – Last year, Family & Children's Place requested $2 million worth of funding on behalf of the Louisville Collaboration to Prevent Child Abuse, Youth and Family Violence from the Department of Justice through the Byrne Discretionary Community Projects Funding program. This request, which was championed by former Congressman John Yarmuth (Ky-03), was approved, and placed into H.R. 2617, the "Consolidated Appropriations Act, 2023," (a.k.a. The Omnibus Bill). President Joe Biden signed the bill into law before the start of 2023.
Led by Family & Children's Place, the Louisville Collaboration to Prevent Child Abuse, Youth and Family Violence advances a vision of a more coordinated system in Louisville, Kentucky.
"We could not be more thrilled about receiving this grant and working with these three great partners – CWF, BGCK and ECHO. According to a recent report, Kentucky ranks 6th in the nation for child maltreatment. Alongside our community partners, this grant allows us to continue creating safe and healthy environments for children and families. We long for the day our services are no longer needed, but until then we will continue helping those seeking assistance," said Pam Darnall, CEO/President of Family & Children's Place.
This coordinated system involves multiple existing community-based organizations and is geared towards providing an infrastructure of evidence-based prevention, education, and crime victim support activities – including mental health, and crisis intervention services.
"We are excited to have this opportunity to collaborate more closely with our community partners to provide child abuse prevention education and to take a holistic approach of providing resources to the children and families of Louisville to combat child abuse or any victimization to a child. Ultimately, it's the role of adults to make sure children are safe and we want to make sure that every child in Louisville can grow, learn in an environment free of abuse," said Sonja Grey, Executive Director, ECHO.
Leveraging the efforts of longstanding law enforcement partners (local, state, federal) and other multidisciplinary team members involved in the criminal justice system (including prosecutors), the project will implement a model of service integration through nonprofit agencies and assure non-duplication of efforts through a singularly qualified external evaluator, REACH Evaluation.
"We envision our city as a model where every home and every community are safe places in which child abuse, youth and family violence no longer occur. Our collaborative work on this project will move us closer to turning this vision into reality," said Elizabeth Wessels-Martin, President/CEO, The Center for Women and Families.
The overarching goal of the partnership is to provide a social safety net for those who have been impacted by crime or violence and to build a well-coordinated infrastructure of support for prevention and support.
"Our community is experiencing an unprecedented level of youth involved violence, and we at Boys & Girls Clubs of Kentuckiana are committed to co-developing and implementing community level strategies that invest in the aspirations of young people. Our goal is to continue to work collectively with our partners to ensure all young people we serve become purpose-driven, motivated self-directed adults. The OJJDP grant is a needed investment in addressing the root cause issue that puts our youth at risk," said Daryle W. Unseld Jr, President/CEO of BGCK.
This grant is an opportunity for our community to continue our work towards creating safer and healthier families. In the coming weeks, the agencies will promote the grant on our social media pages: @famchildplace, @bgckyana, @ECHOlouisville, @thecenteronline. There will be a press conference planned at Family & Children's Place to formally announce the grant and will feature elected officials, cabinet officials and members, community partners and more. Details to come soon.
###