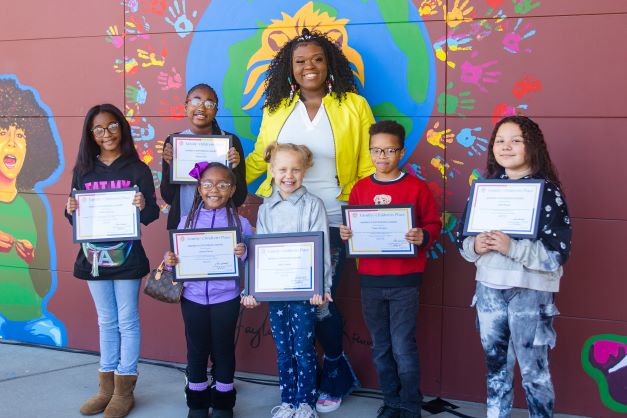 Blog
Jaylin Stewart Community Mural Unveiling
October 24, 2022
On October 3rd, media outlets gathered to celebrate the unveiling of a new Jaylin Stewart community mural outside of our Family Service Center building in Old Louisville. Supporters had the chance to hear from Family & Children's Place staff, local artist Jaylin Stewart and recognize the efforts of several Engelhard Elementary School students who assisted in the mural's creation.
"It has truly been a pleasure to work with Family & Children's Place to create this community mural." Said Jaylin Stewart, artist and founder of Adah Art whose most recent installation was a projection of Breonna Taylor on Louisville Metro Hall. "Most importantly, it was an honor to work with the talented and intelligent students of Engelhard Elementary! This is the beginning of many more murals lead by myself, communities, and organizations who want to create a lasting impact on the future artistically. I am so grateful for the opportunity."
Students in the program were visited several times by Stewart who helped them recognize their own creativity and find their voices through artistic expression. School-Based Services through Family & Children's Place provide family-centered help designed to improve academic success and strengthen families while building character, social competency and bolstering relationships between the student, family, and school.
The community mural was funded in part by Jaylin Stewart and by 21st Century Community Learning Centers of Kentucky. Student artists and their families were in attendance during the unveiling along with educators, community leaders and supporters. Visit our Facebook page to see all the photos from the day!
Media Coverage:
WDRB: https://www.wdrb.com/community/louisville-artist-jcps-students-unveil-new-mural-outside-family-and-childrens-place/article_95f73556-4332-11ed-8c43-3f72eda0bf17.html
Louisville Public Media: https://wfpl.org/louisville-muralists-latest-work-a-collaboration-with-elementary-students/
WAVE: https://www.wave3.com/2022/10/04/family-childrens-place-unveils-community-mural-created-by-local-artist-students/
WLKY: https://www.wlky.com/article/jcps-students-help-louisville-artist-create-mural-family-childrens-place/41503739#
Spectrum News 1: https://spectrumnews1.com/ky/louisville/news/2022/10/03/artist-collaborates-with-students-for-a-community-mural
WHAS: https://www.whas11.com/article/news/community/community-mural-engelhard-elementary-students-jaylin-stewart-louisville-kentucky/417-5fe651c7-74c3-41e1-b195-59457140766d