Blog
Alicia's Story
November 8, 2022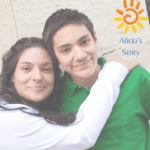 Alicia had a happy childhood and excelled through high school in academics and sports. When she got to college, she found herself under pressure to behave like many freshmen around her. Encouraged by her roommate to "let loose", she went to a party and met a young man she quickly began dating. After just a few months, she found herself pregnant and without the support of her parents. She desperately wanted to stay in school but without her parents, she couldn't make ends meet and turned to her boyfriend for help. He taught her how to sell drugs to make money. Unfortunately, it wasn't long until Alicia had to drop out of college and found herself living in a hotel with her baby and boyfriend. After having a big argument, her boyfriend left and ultimately Alicia began using drugs to cope and had even more trouble providing for her child.
Her drug activity caught up with her and her child was removed from her custody while she spent two years in prison. During that time, she was lost and angry until she connected with a faith-based support group who met within the prison and assisted her once she was released. She continued her recovery and though she struggled to make a living and meet some of her goals necessary in regaining custody of her child, with her hard work and the support from her Supervised Visitation case worker through Family & Children's Place, Alicia made steady progress.
For over a year, Alicia followed her program, cried many tears and did everything in her power to get her feet under her. During that time, she left her old life and created a new one with two amazing support people, a full time job and an apartment that is furnished, safe, and clean for herself and her children. Through Alicia's hard work, she has succeeded in receiving full custody of her children and for the first time feels truly optimistic about her life and the future for her family.
Will you help more families like Alicia's with a gift today?